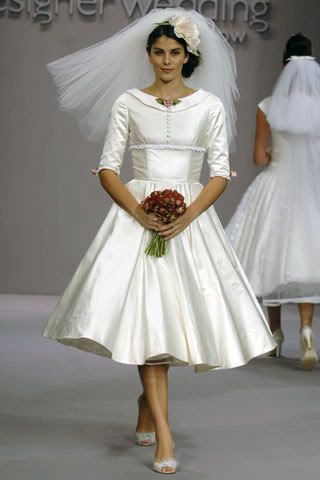 There are some beautiful modern wedding dress designs available but if you prefer gowns that are copies of the fashionr of previous eras there are vintage designs such as 1950 style wedding gowns available too. You will also find Victorian copies of wedding gowns.
It's all down to personal taste and preference but some dresses that are modeled on those that were worn around 1950 have an air of sophistication and style which are second to none. You will find plenty of dress designers online that specialize in such wedding gowns. The dresses can be adapted and modified to suit your preferences.
What Is 1950 Style? – Is It The Wedding Dress You Want?
There are certain attributes of a 1950 wedding dress that are worth outlining. This will help you to determine if a 1950 gown matches your ideal.
• Luscious materials such as silk organza are used for the gown.
• Bolero jackets were at the height of style during the 1950's and were worn over sleeveless dresses.
• Most of the dresses have Basque waistlines, which particularly suits those who want a dress that will hide anything less than a flat stomach.
• The skirts to the dresses are very full and most of them require you to wear a separate petticoat to accentuate the fullness.